Meet SCOTT,
Your Litigation Research Assistant
Why SCOTT
Just like how your boss engages you as a sounding board, let SCOTT play the same role for you.
Let SCOTT deliver the answer you need.
Studied Case Law On Your Behalf
Answer Questions In Natural Language
Provide Supporting AuthoritiesFor Your Verification
What SCOTT Can Do
Experience the power of generative AI. You can ask SCOTT to answer your question or find you a case.
SCOTT Q&A
Answers your legal research queries in natural language; no more unnatural boolean operators
Recommends cases with relevant annotations 
Top-down approach: Cover as many legal principles as possible before zooming into specifics
SCOTT Search
Find similar cases based on

i) the factual matrix of your case
ii) a specific legal argument or clause you have in mind

See the most relevant paragraphs upfront 
Bottom-up approach: Search by specific facts or issues to identify legal concepts
SCOTT Memo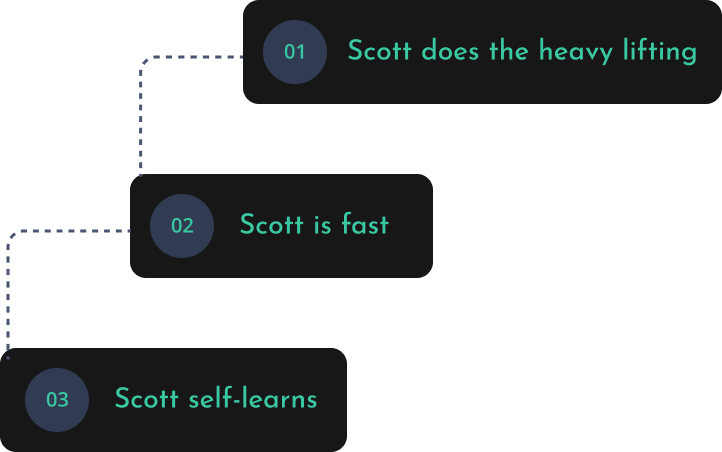 The Secret Sauce
SCOTT tells you the answer upfront, and provides the sources so you can verify the usefulness and credibility right away.

Skip the Ctrl F search across multiple tabs of content - just ask SCOTT to know whether you are on the right track.

SCOTT is continually trained on INTELLLEX's proprietary data and annotations accumulated over the past 7 years since 2016.
Pricing Plan
Fair & Simple Pricing
Start with the Free plan to try out SCOTT for 7 days
$0/month
FREE
7-day Preview of SCOTT Q&A and SCOTT Search
---
Snippet of SCOTT's answer

Relevant paragraphs upfront
---
Citations with case annotation details
For large teamsBy design
ENTERPRISE
Everything in STARTER,
plus
---